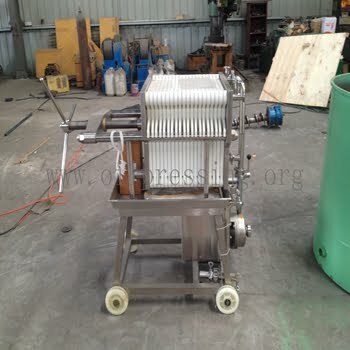 Description:
The plate and frame oil filter is suitable for pharmaceuticals, alcohol (beer, wine, liquor, rice wine, etc.) beverages, vinegars, various oils (edible oils, industrial oils) chemical products, water filtration in environmental protection plating industry and etc.
Working principle:
The working principle of the plate and frame oil filter is to filter the raw oil through the filter cloth to get clean oil.
Working process of plate and frame oil filter:
When filtering, Raw oil is fed into the feed channel through the feed pump, and the oil passes through the filter plate from a filter plate.and then the filtrate filtered through cardboard or filter is collected through the filtrate channel and finally get the oil from the outlet.
Main parameters:
| | | | | | |
| --- | --- | --- | --- | --- | --- |
| Model | Number of filter plates | Filtration area | Power | Filter plate size | Dimension |
| TZB-20 | 20pcs | 3m2 | 1.5kw | 400x400mm | 1550x600x1400mm |
| TZB-30 | 30pcs | 4m2 | 1.5kw | 400x400mm | 1750x660x1400mm |
| TZB-44 | 44pcs | 6m2 | 1.5kw | 400x400mm | 2100x660x1400mm |
| TZB-62 | 62pcs | 8.5m2 | 2.2kw | 400x400mm | 2500x660x1400mm |
| TZB-70 | 70pcs | 9.5m2 | 2.2kw | 400x400mm | 2700x660x1400mm |