Location of our company
Zhengzhou Taizy Machinery Co., Ltd. is a well-known enterprise that integrates scientific research, development, design, manufacture, and sales as a whole. It is located in Zhengzhou Economic and Technological Development Zone, which is a commercial and economic center, mainly engaged in the import and export of mechanical equipment. Here is empowered with more than 300 employees all motivated by the joy of working as a family.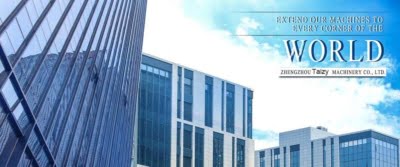 Our main products and market
Our main products include seed roaster, oil press, oil filter, refined oil equipment, oil production line and etc. In recent years, our products have enjoyed great popularity in the market of Africa and Southeast Asia, such as Nigeria, Kenya, South Africa, Ghana, Congo, l Ethiopia, Namibia, Morocco, Botswana, Zimbabwe, Uganda, Algeria, Cameroon.
Our R&D capacity
We still firmly believe that technology is the predominantly productive force. Guided by such a concept, we have invested a great investment in hiring many outstanding mechanical experts as consultants, so that we have excellent ability to research and develop new products and improve the quality of machines.
Our QC and our service
We always strive for excellence. With a well-trained workforce, strict quality assurance system, optimized management of the whole production process, and perfect after-sales service systems, our products and service are highly appreciated by customers. nationals and foreigners. On the basis of the tenet of quality, good reputation, and customer first, we have the faith to create high-quality products among relevant industries, and to do great performance for ages. We are very dedicated to providing superior products and satisfying service to all customers and look forward to sincere cooperation with them for a bright future. Our company aims to innovate in practice and provide reliable guarantee from production to sale. Our quality statement comes down to one word – commitment – to agriculture, farmers, and consumers of products, which we strive to fulfill every day.
Our goals for Africa
Since the People's Republic of China was built in 1949, it still pays a lot of attention to agriculture. Today, China has been one of the largest agricultural countries in the world. The Chinese government calls on Chinese companies to help and support Africa's development in recent years. As one of the most professional agricultural suppliers in China, our company has a lot of agricultural machinery experience and has mastered advanced technology during development for 70 years. We respond positively to government policy and participate in exhibiting, studying the African market, and supplying our low-cost and high-quality agricultural machinery. We will remain our first aspiration to help farmers harvest more grain and solve the problem of food and agriculture. We love the world and peace and aim to unite in a concerted effort with African friends to create a beautiful life